As promised, here is my new set of protocol that I need to follow. Look at all the pretty colors! Somebody used every color in the highlighter pack…Anyway. It's 5/29, so I began taking the Doxycycline which is an antibiotic that I will remain on until my egg transfer. The purpose for this is obvious, after any procedure they will prescribe antibiotics in order to ward off any possible infection. Tomorrow, I will take two tylenol with a small sip of water (this was stressed several times) at 7AM, and we will arrive for the appointment at 8:15AM, actual procedure will begin at 9:00AM. From what I have heard, it is a very short procedure – 20 to 30 minutes. I will begin taking the antibiotics twice per day, tomorrow.
Two days after the retrieval, I begin my new medications. One is Estrace, the other is Endometrin. The Estrace is estradiol (estrogen, also known as E2) and Endometrin is the lovely progesterone vaginal suppositories that I previously mentioned. So, if you're paying attention to the lovely chart below – that is estrogen being taken twice per day, and then progesterone suppositories three times per day. I was specifically told to wear panty liners, because the medication will leak. Awesome. I was also told do not stop taking either of these medications until specifically told to do so by the RE office. Apparently, some people will run out of their medications and then assume that they are done. I have enough Endometrin for 63 days, and enough Estrace for two weeks… I somehow see a refill in my future.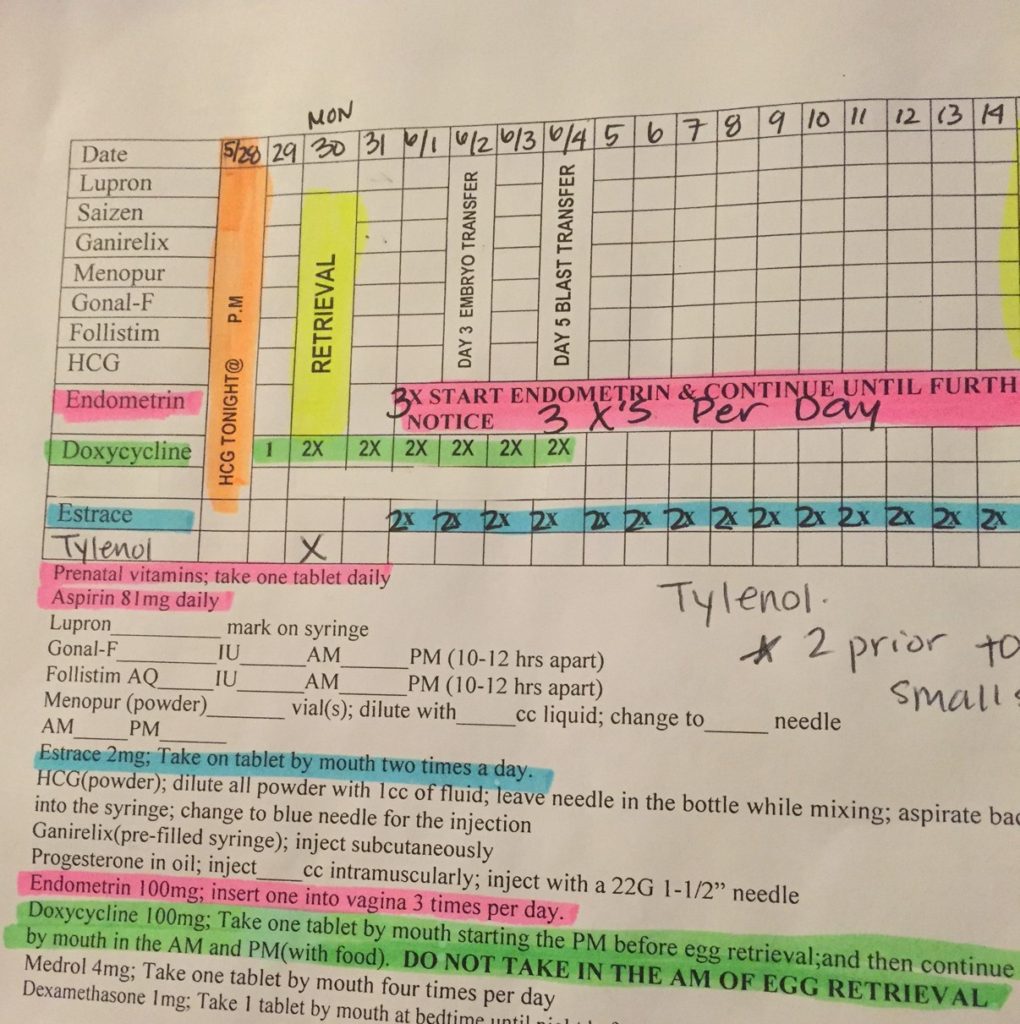 As I mentioned previously, as long as I am feeling well – we will plan to forge ahead with either a Day 3 Embryo transfer, or hopefully a Day 5 Blastocyst transfer. So, it will either be on Thursday June 2nd or Saturday June 4th that I will be having the transfer. Dean and I have gone shopping for plenty of healthy things for me to snack on, and all the foods/drinks that are approved for a diet to help avoid the hyperstimulation.
Tomorrow, we will see how many mature eggs they were able to retrieve. On Tuesday, I will receive a phone call from the cryo lab where they will give us news about how many eggs fertilized.
Thank you everyone for always reading these updates and for all your love and support during this entire process. Please know that it means the world to Dean and I to have such a wonderful support system.
Depending on how I feel tomorrow, I may make a post about the retrieval day – but I make no promises. Cross your fingers for big numbers!
Xoxox,
Jen